30 November 1942
USS Northampton
Killed in Action
Ebert, Hilan Lt. Cor. USN
Runels, Donald S. Ens. USN
Dionne, Arthur L. Ens. USN
Engstrom, Warren L. Lt (JG) USN
Rogers, Robert L. FC3c
Fox, Clifford (N) FC3c
Missing in Action
Declared dead 1 December 1943
Benko, Frank Jr. SC3c
Bryant, Thomas C. S2c
Burris, John Elobert S2c
Burns, Frank Robert S2c
Carr, Lorraine G. S1c
Chapin, Virgil F. WT2c
Clayton, Orville F. GM3c
Coleman, Leroy E. SC1c
Connally, Joseph M. S2c
Curtis, Lamar MM1c
Dugas, Sylvain E. CEM
Flesher, Stanley R. S1c
Fritz, William C. S2c
Gillis, Alexander H. MM2c
Gracey, Howard T. CMM
Gremillion, Roy C. MM2c
Hansen, Tommy F. S2c
Hattenbach, Robert E. S2c
Hofer, Berthold O. FC3c
Johns, Harold W. MM2c
Kesler, Gerald L. BM2c
Kropf, Richard S. S1c
Lang, Clyde Nelson MM1c
Lewis, Richard James S1c
McFarland, John Arthur S1c
McKinlay, William F. S1c
Nelson, Max Richard S2c
Nelson, Frederick Ray MM1c
Newcomb, Hiram Adair S2c
Parsons, Ernest Dean, S1c
Petty, Forrest SC1c
Pince, Francis F. EM3c
Remick, Daniel J. GM3c
Seidel, Herman C. CMM
Snider, Manning MM2c
Sowell, James Walker MM1c
Spishok, John WT1c
Straub, Cyril E. SK2c
Sturart, Walter E. MM2c
Thornsburg, Kermit L. MM2c
Tuttle, Nelson Oran MM2c
Tworek, Henry Thomas B2c
Wright, Clarence W. Y2c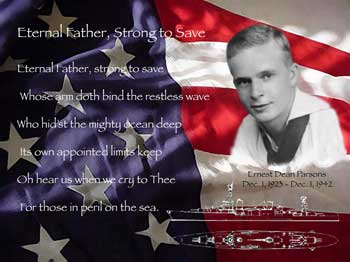 Ernest Dean Parsons
Dec. 1, 1923-
Dec. 1, 1942

Lost aboard the
USS Northampton
WWII
What had only been the image in my mind of a long lost photograph that had been gone for nearly fifty years...
has been returned.
As I remembered it my mind,
I can now see it with my eyes.
The photograph has been returned to the dresser.
Thanks to long lost cousins that kept alive
the memory and clung to the photographs
that they so kindly share with me now.
Matthew 7:7
Ask, and it shall be given you;
seek, and ye shall find; knock,
and it shall be
opened unto you: