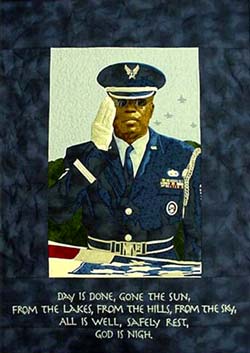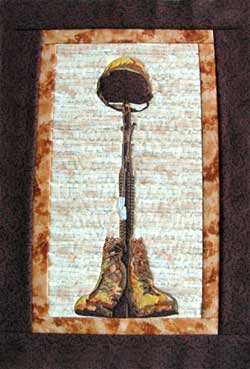 Appliqué portrait quilt of Master Sgt. William Wilson, superintendent of the McGuire AFB Honor Guard,
saluting the U.S. flag during
training for military funeral honors.
The portrait quilt is based on
a U.S. Air Force photo
by Kenn Mann.
Depicted in the quilt is:
a white-gloved salute, excerpts
from words of taps appliquéd
along the border "Day is done,
Gone the sun, From the hills,
All is well, safely rest,
God is neigh."
Also in the quilt is a
flight of aircraft in a fly-over
missing man formation.
When the flight reaches the
honor point, one of the aircraft
peels off into a steep climb
leaving a position vacant.
On behalf of the President of
the United States, the Department
of the Air Force, and a
grateful nation, we offer this flag
for the faithful and
dedicated service...
Appliqué pictorial quilt honoring
a solider who has been killed
by using the symbolic fallen
Solider Battle Cross.
The quilt consists of a soldier's rife,
bayonet, helmet, dog tags,
and boots of the fallen solider.
The Fallen Soldier Battle Cross, Battlefield Cross, or Battle Cross
is a symbolic replacement of a
cross on the battlefield or at the
base camp. Its purpose is to
show honor and respect for
the fallen at the battle site.
The practice became popular
during the American Civil War:
it was a means of identifying
the bodies on the battleground
before they were removed.
Today, it shows respect for the
one of their own that has fallen.
In addition, when attending the
funeral is not always possible
it is a private ceremony
among soldiers to mourn.

To watch the movie:
Press "Highlights" first, then press "Inspiration"
Special days that we should never forget

Armed Forces Day
A day to salute all of the men and women in all branches of the service who protect our country.
Flag Day
A day for all Americans to celebrate and show respect for our flag, its designers and makers,and heroes who served and die for our country
Independence Day
Honors the birthday of the United States of America and the adoption of the Declaration of Independence on July 4, 1776. A time to remember those
who gave all for our freedom.
Memorial Day
Commemorates U.S. soldiers who died
while in the military service.
National Pearl Harbor Remembrance Day
A day to remember and honor all those who died as a result of their service at Pearl Harbor.
December 7, 1941.
Thanksgiving Day
A day to give thanks for all our blessings
and to those who served in the military.
Veterans Day
A day to honor military veterans.
Applique portrait and pictoral quilts honoring those who gave some, and those who gave all and those special days that we shoud never forget.